Day 01
So… now what? I have to talk to them? Who are these people? Fine.
Hi, I'm Paige Lyn, Mom says you're Shaunna and I should be nice to you and Rachel and try to be friends to everyone and that I should take care of you guys and I have… wait, take care of them? But I'm just a kid! Oh that's why you made me grow up like this… that bites. What? Oh no, I wasn't talking to you… I was talking to my mom. You don't see her cause she isn't like, right here, here… but she can talk with us… what do you mean you can't hear her… okay that is just wrong. Mom, why can't they hear you? Oh snap, they're gonna think I'm talking to myself…
Is that Rachel in the green shirt? Uh, what gives with her and that guy? Should I say something to him, he looks like Chuck Norris! He isn't? Who is he? Then why does it say, oh yeah, I did tell you he looks like Chuck Norris and you… you're silly.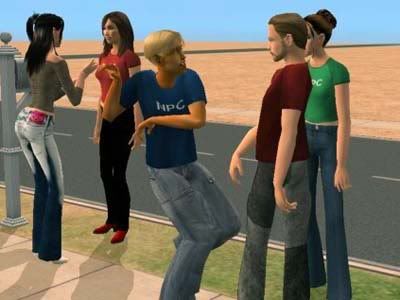 OMG did you just see that? That
Zaed
guy totally tried to tickle him, how gay. He's cute tho, and I totally like his ears. I have this thing about pointy ears. I don't know, they're just cute and he has way cool eyes and… oh okay.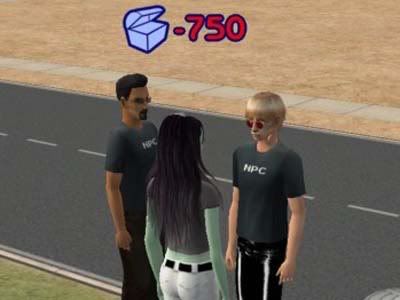 Mom, these people are so not getting along, now what?
Joy
over there is losing points! Hang out with them? How does that help? Yeah, trust you… I did trust you and look where I am now!
So this one time, I told my friend Morgan that she should get rid of her boyfriend cause he says he's in love with Hilary Duff, like he had ever met her and says that he is her boyfriend and it just makes Morgan like so mad and he is like whatever and she says he is such a jerk and she gets so mad and then she is like sad cause they fight about it and…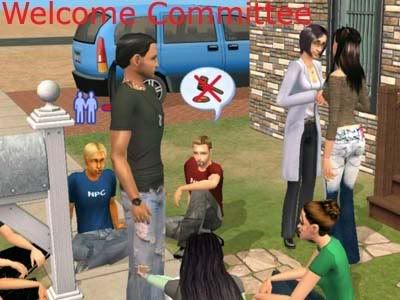 Oh, the welcoming committee! Hi I'm Paige Lyn and Oh My Gosh, you're Franklin Mint's mom with the weird name and the wicked cute… oh he's standing… how do you live with this man and not want to date him? I know you're married, but you're a sim and you can… a sim… as in not real… huh… okay whatever, go ahead and watch tv or something… I totally have to talk to this guy cause my mom is so gonna be jealous cause she like totally drools every time she sees him walking around in his underwear… yeah, she's weird.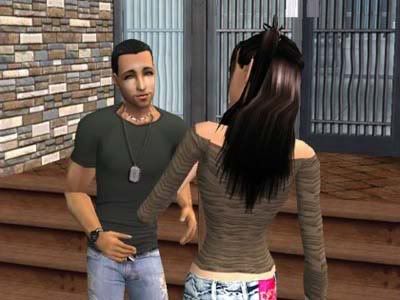 Me? Really? *squeal* Yeah, my mom is a big fan of yours, she says you are too hot to be a sim and… a sim… okay well whatever and she says your brother is a jerk for hurting Suzy's feelings and he doesn't deserve her and maybe she should like be with Ned… yeah your brothers Jag and Ned… you're
Jesse Jagger
from
Beans Legacy Girls
. Oh you're on vacation, okay so I wont tell anyone, "Mark".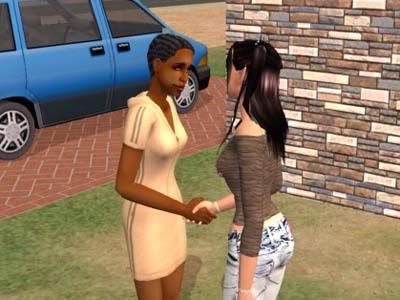 Hello, Mrs. Roper, I'm Paige Lyn. Oh, okay… Daphne. Okay its so weird calling grownups by their first name! Excuse me? Oh nothing, I didn't say a thing. Come on in, I have to look in the paper for a job. I'll see you inside.
page 2 >>